RapidTyping Release Notes
The Rapid Typing release is available in 24 languages; however, the release notes are only in English and we can only accept feedback in English at this time.
What's New in RapidTyping 5
Edition of 22 December 2015, version 5.1
Ergonomics interface design in the Windows 10 style
Now, RapidTyping suggests the shortest way of typing the composite characters
Application now launches faster over the local network in classrooms
New French express-course for advanced users by François Goethals
Edition of 24 November 2015, version 5.0.108
Updated the "Login" dialog window where the group/student name can be entered into a corresponding field or selected from a list. All of the entered data is validated.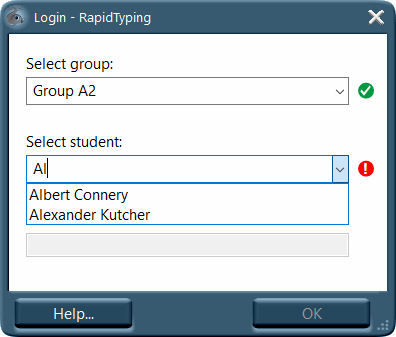 You can now select several groups and assign the courses to all of them.
Fixed a number of bugs in the classroom, including an update to the current lesson on a students' machine if a teacher has deleted or modified the lesson or course with this lesson; the results are properly exported to PDF on Windows 10 systems and many other minor bugs.
Edition of 29 October 2015, version 5.0.107
Added the Italian UI language.
Fixed minor bugs.
Edition of 20 October 2015, version 5.0.106
Fixed bugs that occurred while working with touch-sensitive displays.
Disabled the possibility to work with a virtual keyboard using a mouse on systems without a touch-sensitive display.
Fixed a bug with the virtual AZERTY keyboard resetting to QWERTY during French lessons.
Fixed minor bugs, including course renaming with a double click, changing the width of the student list window, etc.
Added the Albanian UI language.
Edition of 16 September 2015, version 5.0.105
compatibility with Windows 10 improved
installation on Linux-Wine improved
French-Belgian courses added
the highlight of main menu item is fixed
Show/Hide button on the Student List is added
Uzbek language added
Edition of 30 March 2015, version 5.0.101
Finnish courses added
English courses updated
Chinese, Chinese-Taiwan, French, Polish, Portuguese-Brazil, Spanish, German and Turkish interface language added
bug fixing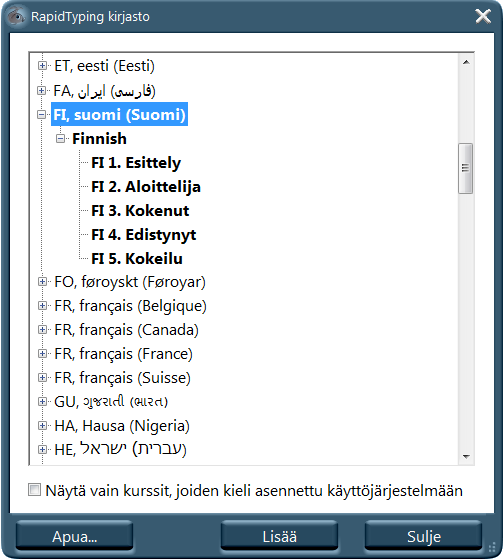 Edition of 3 February 2015, version 5.0.99
Results window improved
new statistics parameter: Done
multi-column context menu for choose current lesson
working with properties of the lesson improved in the Lesson Editor
Kurdish interface language added
English, Greek, Hungarian Help files updated, Russian Help added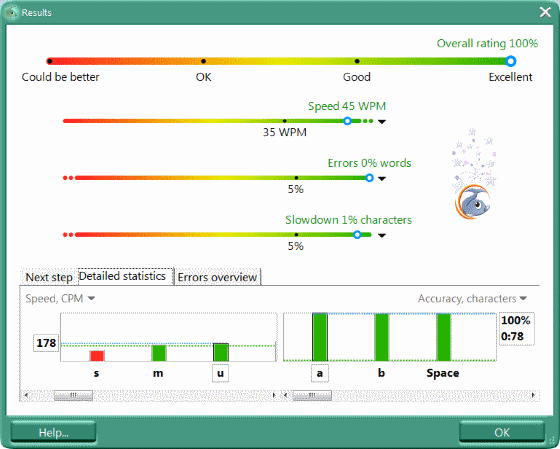 Edition of 10 December 2014
Statistics
export the student/group statistics, in PDF, HTML, XML, CSV formats
new statistics parameter: Net Speed
new statistics parameters: Fixed words, Fixed characters
coloring in table the good/bad results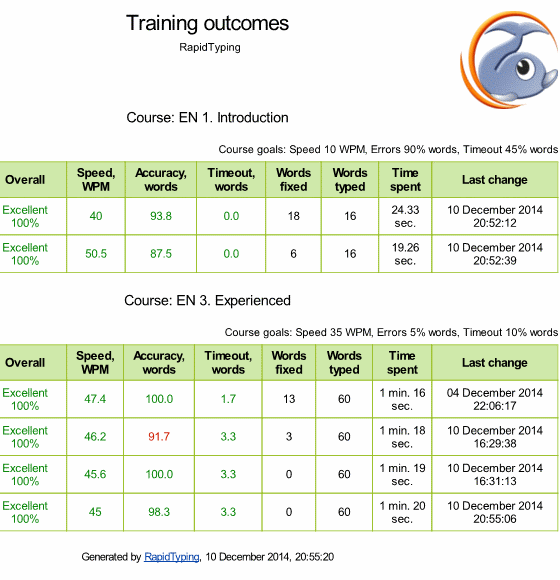 Lesson Editor
new course options: lesson duration
new course options: the end of the lesson
new course options: at the close application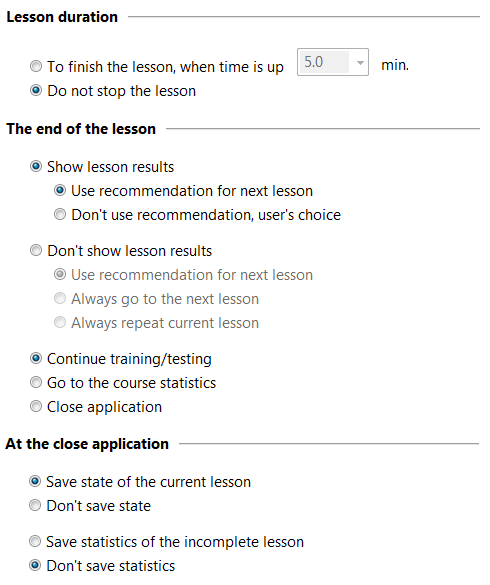 Command line
new command: import students in XML format
new command: export student statistics in PDF, HTML, XML, CSV formats
Edition of 25 August 2013
Current lesson
speed and accuracy for current lesson in real time
remaining and elapsed lesson time
passed lessons marked in the Lesson menu
support for multi-language lessons
support for laptop keyboards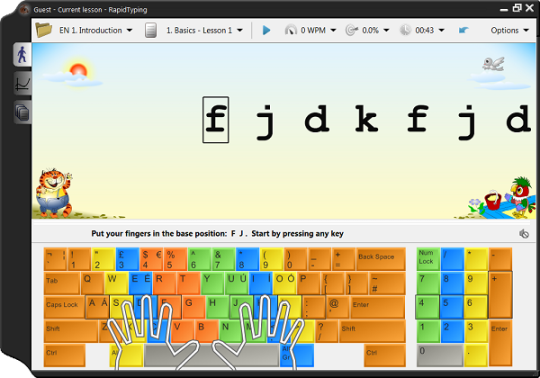 Student list
added support for student groups
different courses assigned to different student groups
student password
student statistics from teacher's computer( or system administrator )
now, convenient to add big number of students
import/export the student/group statistics
Statistics
overall lesson rate added;
statistics for each symbol/key ( speed, error, time-out ) typed added
statistics for keystrokes added ( includes the system keys type: Shift, Alt, BackSpace, repeated error keystrokes )
preview the course, lesson and char/key statistics together
Lesson Editor
undo/redo for course edit
split lesson by character, words, sentence, paragraph
import/export lesson course( including course options )
new course option: customise definitions of good/bad results
new course option: customise metronome options
new course option: show/hide metronome
new course option: show/hide the Result window in the final lesson
new course option: show/hide the lesson text highlight
new course option: enable/disable the BackSpace key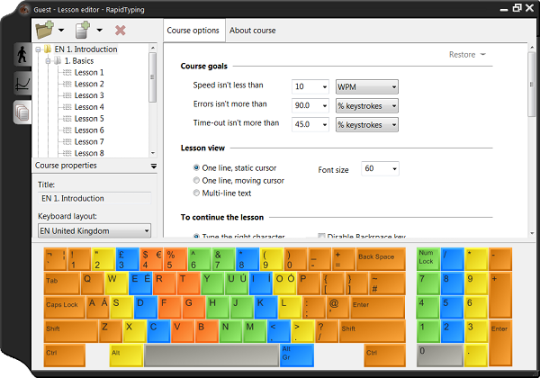 Courses
English courses updated
Greek courses updated
French courses added
Hungarian courses added
Netherlands courses added
Introduction and Beginner courses are enabled for all languages