Free typing tutor * Online typing test * Typing games
Ten Thumbs Typing Tutor
Ten Thumbs Typing Tutor will take you step by step through the process of learning to type better.

Home Page: Revolution Software
Platform: 98/ME/2000/XP/2003/Vista, Mac OS X/Classic, Linux
Licence: Shareware, $25.95 USD
Size: 10.89MB
Publishers description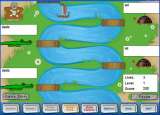 Ten Thumbs is the easy and fun way to learn to type. Ideal for adults and kids alike, Ten Thumbs teaches you the 5 habits of highly effective touch typing that will last you a lifetime. It includes support for English, French, German, Spanish, Dutch and Italian languages and keyboards. Adaptive lessons automatically adjust the text to give you extra practice with your weak keys. The real world language generator means that each lesson is fresh, and never repetitive. You can even type your favorite tunes with SongSeeker(tm) using Apple's iTunes software. Two addictive games let you take a break from the lessons. Ten Thumbs is ideal for classroom use and network and Teacher versions are available.
Three Great Reasons to Learn to Type!
Improve your productivity. Typing faster means you spend less time on each task involving typing, meaning you can achieve more. Learning to type also means improving your accuracy which will improve the quality of your finished work.
Improve your health. Learning to type correctly may reduce the likelihood of developing Repetitive Strain Injury (RSI) by reducing the stress on your hands (learning the Dvorak keyboard may help even more). Also if you type speedily and accurately first time you'll spend less time correcting your mistakes and therefore learning to type can reduce your stress levels.
Improve your employability. IT skills are becoming increasingly important in all walks of life and employers are looking more and more to employ people with a sound skill base. Learning to type is an important computer skill and may make you more attractive to potential employers.
Screen Shots
Main Ten Thumbs Typing Tutor advantages
One unique feature in Ten Thumbs Typing Tutor is the integration of iTunes, letting you practice by typing your favorite lyrics.
Another feature is support of both QWERTY and Dvorak keyboards.
---
RapidTyping Reviews
---
Rapid typing tutor is very best and helpful to me. It increases my speed in typing.
The online test is also helpful. It is very useful software.

Shanaya
---
very good software from beginners to advanced ones thanx for making it a freeware
vandana
---