Free typing tutor * Online typing test * Typing games
TypingMaster Typing Test
Accelerate your typing speed with TypingMaster Typing Test. Learn professional keyboarding skills in no time
Home Page: TypingMaster
Platform: Windows 2000/XP/XP/Vista/7
Licence: Freeware, $0 USD
Size: 1.64MB
Publishers description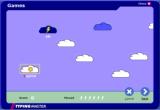 TypingMaster Typing Test is a free, full-featured typing tester for Windows. After warming up with enjoyable typing games, you can evaluate your typing skills with any of the several test texts, or add your own one. You can also view your personal test result history and print out test diplomas. Other features of this program include custom texts, multiuser support, warm-up games, result history, and a printed test diplomas. Program has multiuser support and four games. In addition this package contains several features of TypingMaster Pro typing tutor such as the touch typing course (3 free lessons) and a full Numeric Keypad course.
Screen Shots
Main TypingMaster Typing Test advantages
Multi-user support
Personal result history
Printable typing certificates
Custom text support
Warm-up games
---
---
Last Review
---
Rapid Typing is an amazing site to improve your accuracy, and typing speed, I would recommend this site to all ages, ever since I started this, I have achieved about 3 or 4 more wpm, ( Because I already was very fast at typing, so it was a great improvement) Thank You Rapid Typing!
Michael Tew
Dec 11, 2013
---
Im ahmed toumi i love this site im 10 years old and achieve 70 wpm !!!
ahmed toumi
Dec 10, 2013
---