Free typing tutor * Online typing test * Typing games
Key Advantage Typing Tutor Software
Key Advantage Typing Tutor software is a typing program which teaches fast and accurate typing through a system of informative lessons and progress tracking and graphing.
Home Page: Programming Art
Platform: Windows 95/98/Me/NT/2000/XP/2003 Server, Mac OS X, Mac OS 9
Licence: Shareware, $19.95 USD
Size: 2.28MB
Publishers description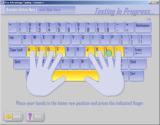 Key Advantage Typing Tutor is a full-featured typing program for learning how to type quickly and accurately. This typing software is designed from the ground up to be fun, intuitive, and easy-to-use. Key Advantage Typing Tutor tracks the progress for multiple typists and generates graphs and reports that are customized for each typist. We believe typing software can teach typing without gimmicky elements and still be entertaining. Our Key Advantage Typing program offers real typing tutor features without any fluff. Our typing tutor software contains innovative concepts like finger-by-finger accuracy reporting. Whether you're a beginner typist, or improving your current typing skills, Key Advantage Typing Tutor is your key to success! Works in Vista and all versions of OS X, including Leopard.
Screen Shots
Main Key Advantage Typing Tutor Software advantages
Learn to type fast and accurately in 25 easy-to-follow lessons
Choose between 2 different "learning to type" styles - one key at a time, or by paragraph
Tracks multiple typists so the whole family can participate with a single typing program
Master the 10-key number pad in 7 simple typing lessons
Learn to type using either the Qwerty or Dvorak keyboard layouts
Practice ergonomic exercises during your typing breaks with animations and detailed instructions
Receive instant feedback through the key-by-key analysis of your typing performance
View tips for healthy typing to reduce the risk of repetitive injuries
View your typing accuracy and typing speed over time with user-customized graphs and detailed reporting
Type fast and accurately to earn award keys and printable certificates as you reach your typing goals
Learn proper typing posture with detailed diagrams
Never hunt and peck again after learning the value of touch typing
Simple and useful help files, fast and friendly technical support
---
RapidTyping Reviews
---
Really cool, thanks for sharing it for free with the public.
mehak
---
this helps me with my college work and making videos! i can type so much quicker! i practiced typing for years but never got the hang of it until i used this software! this is awesome you need to download it!
offical PLMyt
---