Free typing tutor * Online typing test * Typing games
TypeFaster Typing Tutor
Download a fully functional free typing tutor that supports multiple keyboard layouts, multiple users and includes a 3D game.
Home Page: Type Faster Typing Tutor
Platform: Windows 95/98/NT/2000/XP, Linux/BSD/UNIX-like OSes, Linux
Licence: Freeware, $0 USD
Size: 1.9MB
Publishers description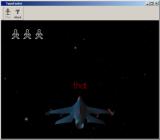 A typing tutor that teaches you to touch type. It supports French, German, Portuguese, US-Dvorak, US-English, Hebrew, Numeric-keypad and more. Typefaster accessible is for blind users. Full Spanish version also. Includes a 3d game. Teacher class support.
Screen Shots
Main TypeFaster Typing Tutor advantages
Supports multiple keyboard layouts and more can be added easily (see the developers section). Includes support for non-rectangular keys
A 3D typing game.
Variable text size.
Teacher support (view student statistics).
Interface for editing lesson files and game settings.
Lesson files can be prose or poems.
Lesson progress indicator.
Right to left text support.
Typing statistics and the option of practising the least accurate/slowest/custom keys.
A clear indication of which fingers to use. This is the essence of touchtyping.
Keyboard is not a fixed size (resolution independent).
Backspace support
Multi-user support.
Completely free with full source code availability.
---
---
Last Review
---
nice
tina
Dec 04, 2013
---
i love this game it helps me get better at typing and it made want to actually want to type more!! This game is a typing game that i beg to play at home but i dont have a computer,phone,or an ipad but i do have a tablet that i get on this other game that is called www.sumdog.com but i cant get on www.rapidtytyping.com because my tablet is dead and i have not got the chance to charge it up so now it is sitting in the back of the car in one of the pouches i know where it is at exactly but right is not the right time to charge it up because i have two dogs and they are all around me and if i layed it on the floor to charge the dog would think it was a play toy and step all over and i dont have a covering to cover it.So now im at school in the computer room on rapidtytyping.com i love it so much!! and i dont care what anyone says about this comment but i do love and i will always love even if i dont get to go here.
miya_thatchick
Dec 03, 2013
---