Free typing tutor * Online typing test * Typing games
10 Finger BreakOut
10 Finger BreakOut - The new generation typing tutor - typing game
Home Page: Giletech
Platform: Windows 2000/XP
Licence: Freeware, $0 USD
Size: 1MB
Publishers description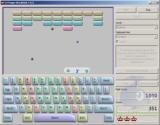 10 Finger BreakOut is a REAL arcade game, in which you are escaping from invaders, shooting and trying to hit balls. This is no fake - you are playing BreakOut ! (You are not just typing characters). With this free typing game you WILL have fun, but don't worry, by playing 10 Finger BreakOut you sure will be learning to type. Improve your typing skills with this free typing tutor - typing game!
Screen Shots
---
RapidTyping Reviews
---
i like this software
mandeep kaur
Oct 01, 2016
---
AMAZING SOFT WARE FOR PRACTICE IN ARABIC.
SYED ZAFARUL HASAN
Sep 19, 2016
---