Free typing tutor * Online typing test * Typing games
SOLO Typing Tutor
Learning to touch-type on US keyboard layout (QWERTY). 100 typing lessons pave the way to confident touch-typing and considerable speed increase.

Home Page: ErgoSolo
Platform: Windows 2000/XP/Vista
Licence: Shareware, $24.95 USD
Size: 14.5MB
Publishers description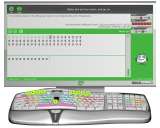 SOLO Typing Tutor is an interesting program with a 3D on-screen keyboard which will help you remember the keyboard layout better. Virtual on-screen keyboards are available for standard, or ergonomic keyboards as well as laptops and can be selected depending on your needs. An amusing animated T-boy will assist you throughout the training. Wise quotations and famous sayings, feedback letters with comments and tips from those who have already finished the course guarantee fun during the learning process. The course is user-friendly and takes a personal approach to every student. An easy-on-eyes interface is an additional benefit.
The unique teaching method has been tested on thousands of grateful students whose typing speed increased to 100 wpm.
Screen Shots
Main SOLO Typing Tutor advantages
Modern design and user-friendly interface
3D on-screen keyboard to visualize the correct fingering
Loads of typing practice in problematic areas
An amusing animated T-boy will assist you throughout the training
---
RapidTyping Reviews
---
Really cool, thanks for sharing it for free with the public.
mehak
---
this helps me with my college work and making videos! i can type so much quicker! i practiced typing for years but never got the hang of it until i used this software! this is awesome you need to download it!
offical PLMyt
---