Free typing tutor * Online typing test * Typing games
GS Typing Tutor
GS Typing Tutor - typing tutor and typing test software
Home Page: GrassSoftware
Platform: Windows Me/2000/XP/2003/Vista
Licence: Shareware, $29.95 USD
Size: 1.93MB
Publishers description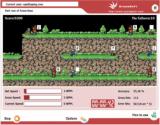 GS Typing Tutor is a powerful educational software which will help you to learn touch typing or increase your typing speed through an amusing, easy, and effective way. Learn To Type Tutor is also a Typing tutor, Typing test, Typing game all in one software. Learn To Type Tutor has a lot of typing lesson and typing tutorial for user from a beginner to a typist. And the learn to type process is amusing and effective. The powerful statistics module in Learn To Type Tutor will help you to improve your typing skill with personalized review exercises. Also you can test your typing speed at any time with a plain-text file with Learn To Type Tutor. Now Learn To Type Tutor supports 24 keyboard layouts. Also Includes 5 included five typing-based games. Learning process is amusing and effective.
Screen Shots
Main GS Typing Tutor advantages
Complete typing lessons: The complete typing lessons include in level from the basics of typing to advanced subjects, such as the numeric keypad and special characters.
Onscreen keyboard: GS Typing Tutor offers an onscreen keyboard which helps a novice to find out where a key is, also which can help to memorize the keyboard layout quickly.
Amusing learning process: With 5 typing games, GS Typing Tutor makes the process of learn to type amusing.
Track your improvement: GS Typing Tutor will track your learning process and try to figure out your problem keys, you can improve these keys with personalized review exercises.
Powerful and complete statistics: The program continually collects the information throughout the process of practice and test, and generates reports and curves to tell you how your development of the performance is. As well as, it analyzes which keys are difficult to you, so that you could customize a special practice to fine-tune your skills.
---
RapidTyping Reviews
---
Rapid typing tutor is very best and helpful to me. It increases my speed in typing.
The online test is also helpful. It is very useful software.

Shanaya
---
very good software from beginners to advanced ones thanx for making it a freeware
vandana
---