Free typing tutor * Online typing test * Typing games
KP Typing Tutor
KP Typing Tutor is a great solution for busy professionals who never took a typing class in school
Home Page: Fonlow IT
Platform: Windows 95/98/Me/NT/2000/XP
Licence: Shareware, $17 USD
Size: 2.8MB
Publishers description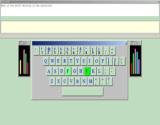 A number of modules let you practice a basic typing course with sentences or longer text. An on-screen keyboard shows left and right hands to highlight the key and finger you should use. It supports Dvorak keyboard layouts with special typing courses.
This International Edition includes layouts and course files in other alphabetic languages.
Note: KP International Companion, including the Typing Course Generator, is provided for free so teachers can customize typing courses for students of different ages.
Screen Shots
Main KP Typing Tutor advantages


KP Typing Tutor supports the following languages and keyboard layouts: English, UK, Dvorak, Left-handed Dvorak, Right-handed Dvorak; German, German Dvorak, Portuguese, Russian (Special notice for Cyrillic), Lithuanian.



---
RapidTyping Reviews
---
I used to hate typing, since my computer teacher said that typing was important. Without this site, I probably wouldn't be the best at typing in my class. Thank you so much whoever made up this website!!
Joy
Mar 23, 2015
---
I love this program. I think that whoever made it was brilliant, and had the mind of a genius. It also amazes me that it is 100% free! It has improved my typing skills a lot! Thanks a ton!
fasttyper98
Mar 17, 2015
---