Free typing tutor * Online typing test * Typing games
MaxType PRO
MaxType PRO Typing Tutor: you can achieve Maximal typing speed and accuracy!
Home Page: AskMeSoft
Platform: Windows 95/98/Me/NT/2000/XP/2003 Server/Vista
Licence: Shareware, $19.95 USD
Size: 2.59MB
Publishers description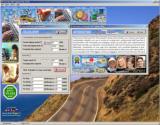 This powerful typing tutor will help you improve your typing substantially whether you are a novice or a seasoned professional. MaxType PRO has a lot of functions that will satisfy your changing needs as your skills and speed improve.
MaxType PRO can help you become more productive with your PC and use your time more effectively. Irrespective of your age, your education, your computer expertise, or how much free time your have, you will improve and be able to utilize your new typing skills in your everyday work!
Screen Shots
Main MaxType PRO advantages
"US \ UK Qwerty", "Dvorak", "Azerty", German and russian keyboard layouts support.
Multiple-users interface - accounts can be password-protected. Flexible settings for each user.
Measures typing speed in CPS, CPM or WPM.
Measures typing speed for each hand.
Generates reports for each typing mode with a lot of statistical data which can be printed.
Supports all Windows operating systems starting from Windows 95! Runs perfectly in Windows Vista.
The following 6 different modes of learning will make the learning process varied and interesting.
---
RapidTyping Reviews
---
Rapid typing tutor is very best and helpful to me. It increases my speed in typing.
The online test is also helpful. It is very useful software.

Shanaya
---
very good software from beginners to advanced ones thanx for making it a freeware
vandana
---