Free typing tutor * Online typing test * Typing games
Keyboarding Skills Test
Test your typing and data entry skills with the Keyboarding Skills Test
Home Page: TestedOK Software
Platform: Windows 95/98/Me/XP/2000/Vista
Licence: Shareware, $45 USD
Size: 1.1MB
Publishers description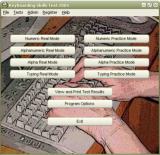 The Keyboarding Skills Test is software for the PC which allows the user to assess typing and data entry skills. Speed and accuracy are measured. Test results are saved to a database for future viewing and printing.
Companies or employment agencies who wish to test job applicant skills during the recruitment process.
School boards who teach keyboarding. The Keyboarding Skills test will let you and the student see and measure the students progress.
Individuals who wish to practice or enhance their typing and or data entry skills.
Screen Shots
Main Keyboarding Skills Test advantages
Typing - Automatic scrolling of the typing test window. As the tested types, the test window will scroll accordingly.
Gross and net words per minute as well as accuracy are measured and saved in a results database for printing and viewing.
User created typing tests. The program is shipped with a few typing tests which can be edited or you create new tests specific to your environment.
Tests are word wrap enabled. Testes does not need to press the enter key.
Gross and net keystrokes per hour as well as accuracy are measured and saved in a results database for printing or viewing.
Alphanumeric test is in the form of a typical invoice.
You decide the duration of the tests; up to 30 minutes.
3 types of data entry tests are included: alpha, numeric, alphanumeric.
User decides width of numeric field and decimal display or supress for numeric tests.
With the click of a button, new data entry tests can be created by the program.
Context sensitive help.
Practice and real mode for each test type. Different data used for each mode.
All tests are on the PC - no paper to key from.
Network ready.
Optional password protection.
Very easy to use, learning curve is just a few minutes.
---
RapidTyping Reviews
---
Rapid typing tutor is very best and helpful to me. It increases my speed in typing.
The online test is also helpful. It is very useful software.

Shanaya
---
very good software from beginners to advanced ones thanx for making it a freeware
vandana
---