Free typing tutor * Online typing test * Typing games
Speed Typing Test 2000
Try the Speed Typing Test 2000 to find out how many words per minute you can type.
Home Page: testedok.com
Platform: Windows 95/98/Me/2000/XP/Vista
Licence: Shareware, $23 USD
Size: 1.05MB
Publishers description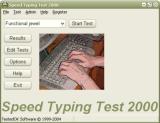 Our typing test software measures typing speed in words per minute (WPM) and accuracy. Already shipped with over a dozen tests, the user may create tests specific to their environment. Tests are word-wrap enabled and support user defined fonts. Test results are saved and may be viewed/printed at any time. Teachers will find this very useful for administering and scoring typing exams. Companies will find it useful for testing job applicant typing skills. Individuals may assess and practice their typing skills. The program is highly customizable. Try it out for yourself by downloading our 30 day fully functional evaluation version.
Screen Shots
Main Speed Typing Test 2000 advantages
Typing test results saved in file for future printing or browsing
2 modes, practice or test
Very easy to use. Less than 5 minutes learning curve.
Word-wrap enabled
Highly customizable
Words Per Minute (WPM) and accuracy measured
Includes over a dozen typing speed tests and the user may create new tests at any time
Network enabled
User defined fonts for test text
No paper to key from, 100% PC based
The program is cost effective, only $23.00 (USD) per workstation
---
RapidTyping Reviews
---
Rapid typing tutor is very best and helpful to me. It increases my speed in typing.
The online test is also helpful. It is very useful software.

Shanaya
---
very good software from beginners to advanced ones thanx for making it a freeware
vandana
---