Free typing tutor * Online typing test * Typing games
RapidTyping 5 Help
This manual describes the basic information and use of the RapidTyping 5.
How to check for updates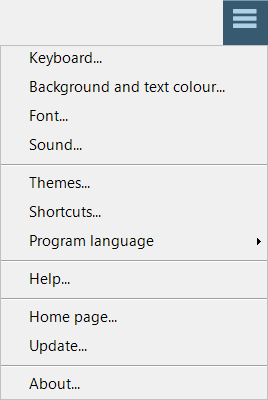 To check for RapidTyping updates, click the Options->Update (in the top-right corner of the RapidTyping window), alternatively you can press Ctrl+O and select the Update.
You'll be taken to the download page on the RapidTyping website. For details about downloading and installation, see How to download and install.
See also:
RapidTyping Reviews
---
i like this software
mandeep kaur
Oct 01, 2016
---
AMAZING SOFT WARE FOR PRACTICE IN ARABIC.
SYED ZAFARUL HASAN
Sep 19, 2016
---