Free typing tutor * Online typing test * Typing games
Letter Chase Typing Tutor
Letter Chase Typing Tutor is a full featured typing program that uses a visual method to teach the location of the keys.
Home Page: Letter Chase
Platform: Windows 98/ME/NT/2000/XP
Licence: Shareware, $26 USD
Size: 1.5MB
Publishers description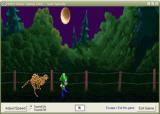 Letter Chase Typing Tutor for Windows is a complete typing program for all levels. Letter Chase touch typing software runs on all versions of Windows and works on a network. With Letter Chase Typing Tutor, it has never been easier to learn to type! Beginners to touch typing are guided by animated hands to learn the keys. Even young kids can learn the keyboard with Letter Chase Typing Tutor, making it ideal for schools and educational institutions (many elementary and high schools are Letter Chase users), as well as corporate training (keypad training included with the program). Experts learn how to become masters of touch typing with our course. Home computer users also benefit from learning the touch type method. No more hunt and peck, two finger typing. Within days you can memorize the qwerty keyboard and go on to developing speed. Letter Chase is a master at teaching speed typing. Two unique lessons will have you up to speed faster than any of the other typing courses, and with greater accuracy. We call them "Word Sweep" and "Letter Chase."
Screen Shots
Main Letter Chase Typing Tutor advantages
keypad training
animated hands
works on a network
---
RapidTyping Reviews
---
Rapid typing tutor is very best and helpful to me. It increases my speed in typing.
The online test is also helpful. It is very useful software.

Shanaya
---
very good software from beginners to advanced ones thanx for making it a freeware
vandana
---